Celebs are known for making a splash every summer with some of the hottest beach looks, from string bikinis to fashionable chic one pieces. We love seeing our favorite celebs on the red carpet or out and about in everyday street style, but they also know how to strut their stuff at the beach.
Brooke Shields, Kylie Jenner, Selena Gomez are just some of the celebs who are showing us how to make a major style statement while at the beach or pool this summer. We have rounded up some of the most sizzling looks this summer to covet.
Elle Fanning
We love the neon pink strapless bandeau style bikini that Fanning wore while vacationing in Italy. She toned down the brightness of her bikini with oversized pink sunglasses and a matching bucket hat.
Selena Gomez
Selena is back and showing us how to do a #hotgirlssummer. She resembles a breathtaking mermaid in her crimson red one-piece swimsuit. Lesson learned: who said a one-piece can't be sexy?
Jada Pinkett Smith
The take host for Red Table Talk showed off her toned body in her teeny tiny green bikini that had unique palm leaf cutouts. Plus, her braided hair was a work of art in itself. She looked like a Greek goddess on her July 18th Instragram post.
Brooke Shields
The 54 year old showed that she still has what it takes on July 23 on her yacht, wearing a coral and petal-pink bandeau bikini. We loved her Aloha Marina Hula Lid hat plus her toned legs and arms.
Sara Sampaio
The Victoria Secret model stunned us on July 17 with her very tiny forest green bikini with the beautiful landscape of Capri behind her. She gave a shot out to the all of her Instagram fans with her post.
Padma Lakshimi
Our beloved Top Host television host and author showed off her toned body by wearing a magenta bikini. She posted this picture on her Instagram account on July 17, but clarifying through hashtags that her picture was not retouched or Facetuned.
Kylie Jenner
Kylie rented a yacht for her boyfriend, Travis Scott's birthday to unwind on together after his birthday party with friends and family. Kylie looked oh so glamorous with her Christian Dior one-piece with high-cut sides and spaghetti straps.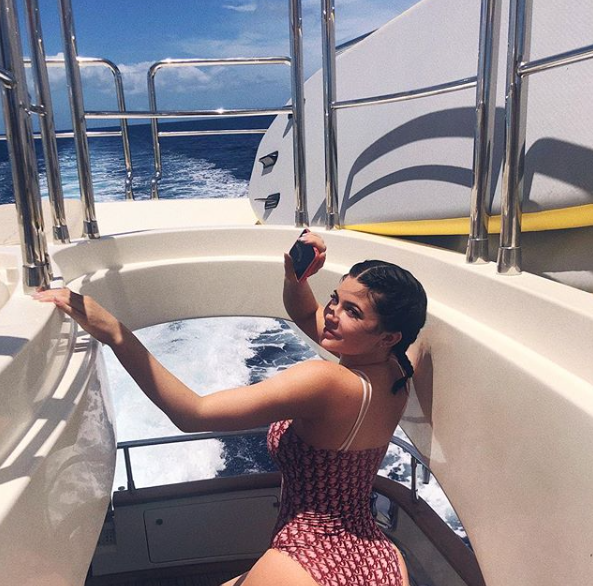 Kendall Jenner
Her bold bikini just might be your everyday bikini this summer, her look so totally doable. Best part is the bikini is from her sister's merchandise line for only $60.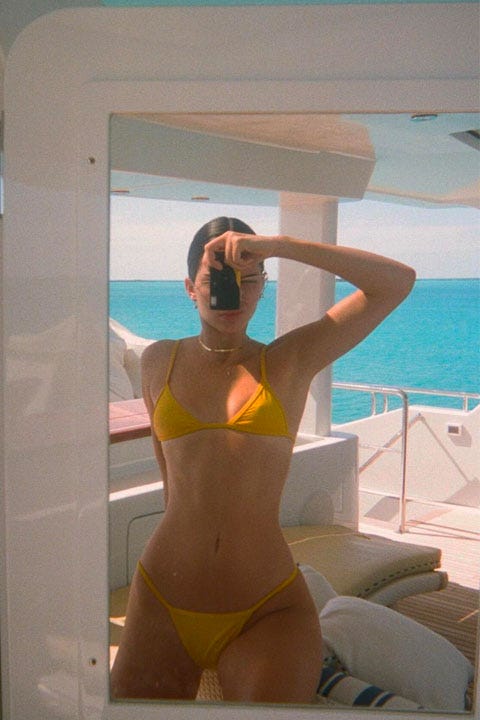 Eva Longoria
The actress, along with her photo-bombing friend in the background decided to show off her curves at a swimming pool in Marbella, Spain on July 11. We love the playfulness in this picture with the one-shouldered bikini ensemble and the oversized straw hat.
Bella Thorne
The American actress has been on the news lately for coming out as pansexual. She showed us how to accessorize a stylish bikini with lots and lots of necklaces, bracelets and earrings.
Salma Hayek
One of our favorite posts from this summer of celebrities wearing swimwear, we adore how the Frida actress looks so happy soaking up the sun while wearing a red Gucci one-piece.
Kate Hudson
We loved how Kate matched her one-piece to her Aperol Spritz Cocktail. The founder of Fabletics wore a plunging coral one-piece with some extra bling from her gold jewelry on July 25.